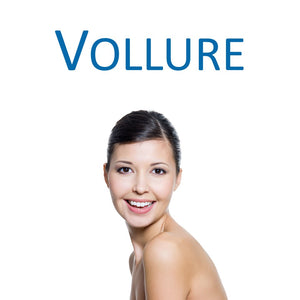 Vollure
Regular price
$800.00
Sale price
$550.00
---
What is Vollure?
Vollure is a dermal filler in the Juvederm family that is used to restore lost volume by filling in wrinkles and folds. The active ingredient in Vollure is called hyaluronic acid. Hyaluronic acid is a sugar found in your skin that draws water into the area. When Vollure is placed in the skin, the hyaluronic acid brings water from your body into the area to volumize.
What does Vollure do?
Vollure can be used in a variety of ways:
Vollure can fill under eye hollows.
Vollure can be placed in the smile lines (parentheses lines or nasolabial folds) and marionette lines to reduce the wrinkles and folds.

Vollure can be placed in parallel fine lines sometimes seen on the cheeks called accordion lines.
Vollure can be placed in the lips to provide a natural enhancement of the lips without making them look too big.
What happens during a Vollure treatment?
Before your Vollure treatment you face will be washed and we will take pictures of you in various positions to monitor your progress. Then we apply numbing cream to the area that will be treated with Vollure and let it sit for about 15 minutes. The numbing cream is removed and the area is cleaned with special solutions to prevent infection. We cool the area with cold air to provide further numbing and a vibrating distractor called the Beauty Bar is placed on your skin to distract you. We will also provide you with a stress ball to hold during your Vollure treatment. Dr. Alex will place the Vollure in the skin with multiple injections. After your Vollure treatment, Dr. Alex will massage the areas. We will clean your skin, apply sunscreen, and provide you with an ice pack.
Vollure Treatment Demonstration
When will I see the results of my Vollure treatment?
One of the best things about Vollure is that you'll see your results right away. Sometimes the results of your Vollure treatment are exaggerated because there is swelling. The swelling will go away within two weeks and you'll see the final results of your Vollure treatment at that time. 

How long will the results of my Vollure treatment last?
Vollure uses a new technology called Vycross which allows you to enjoy your results longer than with other hyaluronic acid fillers. Most people enjoy the results of their Vollure treatment for one to two years. The more product is used, the longer it will last. Dr. Alex recommends returning to the office every six months after your Vollure treatment to take pictures to determine if more is needed.
What should I do after a Vollure treatment?
After a Vollure treatment, avoid heat exposure, alcohol consumption, and strenuous exercise for 24 hours. Heat exposure refers to staying outdoors for prolonged periods in the hot sun. Also avoid hot environments indoors such as a hot bath, sauna or steam room. Additionally, avoid hot or spicy foods or drinks such as soup, hot coffee, and hot tea (iced coffee and iced tea are okay). Strenuous exercise is anything that causes you to sweat or become short of breath. All of these things can increase the risk of bruising. Dr. Alex recommends massaging the area treated with Vollure (except for lips) as much as possible for the first week. A general rule is to massage the area treated with Vollure for five minutes at a time, five times per day, for the first five days (rule of fives). Apply a moisturizer on your skin before massaging the area treated with Vollure to help. To decrease the swelling in the area treated with Vollure ice the area for five minutes at a time as much as possible, sleep on an extra pillow, and avoid salty foods for a few days. We also provide aftercare products to help decrease swelling and the risk of bruising after a Vollure treatment.
Brilliant Distinctions
At A E Skin we are proud to participate in the Brilliant Distinctions Program. The Brilliant Distinctions Program is a rewards program where you get points for each treatment with Botox, fillers such as Voluma, Vollure, and Volbella, and Kybella. You can use these points towards a discount at your next treatment.
Additional Notes: 
This is a service to be performed at the A E Skin office in Encino, CA. Patients must be in overall good health. Patients cannot be pregnant, breast feeding, or trying to become pregnant. Patients may not have used Accutane within the last 12 months. New patients must complete medical history paperwork and have a consultation (which may be done on the day of treatment). Patients must sign consent form for each treatment. As with all medical treatments provided by A E Skin, treatment itself if performed at the discretion of Dr. Alex Eshaghian.  If you are a not a candidate for the procedure purchased, your purchase will be refunded within 30 days of your consult. All procedures purchased online must have their corresponding consult booked within two months of the date of purchase.