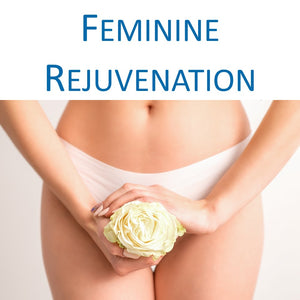 Feminine Rejuvenation
Regular price
Sale price
$1,000.00
---
For many years we have been using laser technology to address a variety of concerns on the face. Now we are able to use laser for feminine rejuvenation.
What is feminine rejuvenation?
Feminine rejuvenation is a new are of focus for many cosmetic physicians. The face is most commonly treated area on the body in the field of aesthetics. Common concerns include undesired wrinkles, uneven color, and loose skin. But the face is not the only area of the body that undergoes changes over time. Age, childbirth, and hormonal changes over time have an effect on feminine health. Changes include looseness of the skin around the vagina and the internal muscles. This leads to an aged appearance as well as other functional changes such as stress urinary incontinence (SUI). SUI is a condition where women leak urine when they laugh, cough, sneeze, exercise, or bear down. It results from loosening of the pelvic floor muscles, especially after childbirth. Additionally, with menopause hormonal changes include dryness, which can lead to itching and pain with intercourse, as well as decreased sensation in the area, resulting in decreased pleasure with intercourse and a decreased desire for intimacy. All of these changes are of course unwanted. Fortunately, we are now able to reverse these changes using laser technology for feminine rejuvenation. The feminine rejuvenation treatment tightens the skin, the internal muscles, and increases lubrication. This results in a more youthful and rejuvenated appearance, improvement in SUI, increased pleasure with intercourse, and an increased self-confidence.
How does feminine rejuvenation work?
The feminine rejuvenation treatment is very simple. Similar to laser skin tightening, gentle micro-pulses of infrared light are used to slowly heat the entire area around the vagina. The treatment is entirely external and there is no penetration. The heat penetrates deep into the skin and tissues, resulting in a number of changes. The skin on the outer surface is stimulated to form new, fresh, and healthy collagen, which tightens the skin and provides a more youthful appearance on both the labia majora (outer lips) and labia minora (inner lips). The muscles on the inside are stimulated. This results an in increase in strength of the pelvic floor muscles which helps with SUI. At the same time the muscles in the vagina are also strengthened, resulting in increased pleasure with intercourse. The other benefit of the deep heating of the tissue is that it draws more blood to the area. This allows for increased lubrication, which decreases itching and pain with intercourse.
What is involved in the feminine rejuvenation treatment?
The feminine rejuvenation treatment is a simple non-surgical treatment that can be done during your lunch break. The feminine rejuvenation treatment itself is fast, safe, and comfortable. The area is first cleaned with a cleansing solution. Then ultrasound gel is applied to the area to allow for the light to be transmitted. The laser is passed over the entire region, one small area at a time, for about 15 minutes total. It feels like a warming sensation and numbing is not required. Dr. Alex recommends that the area is shaved the morning of the treatment or the day before the treatment for best results.
Feminine Rejuvenation Demonstration
Warning: Graphic Content
How many feminine rejuvenation treatments will I need?
Dr. Alex recommend an initial series of three feminine rejuvenation treatments at one-month intervals. After that, patients have one maintenance treatment every six to twelve months.
What should I do after a feminine rejuvenation treatment?
There is no recovery after a feminine rejuvenation treatment. You can resume your normal activities right away. The are may be hot, red, and swollen for a few hours. But there is no recovery after that. You can resume intimacy right away.
Am I a good candidate for feminine rejuvenation?
There are many women who are good candidates for the feminine rejuvenation treatment. Some women simply want a more youthful appearance of the external structures to improve wrinkles and loose skin. Others suffer from SUI, dryness, decreased sensation, pain with intercourse, and decreased pleasure. Often times this occurs after childbirth, especially multiple children, and after menopause. All of these women are great candidates for the feminine rejuvenation treatment.