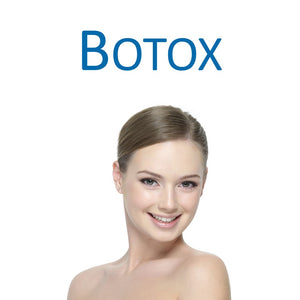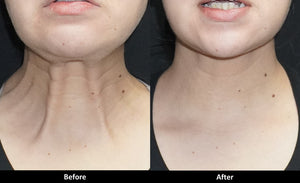 Botox for Neck Bands (60 units)
Regular price
$780.00
Sale price
$600.00
---
What is Botox?
Botox is a purified protein used to treat wrinkles caused by facial expressions. Botox works by relaxing muscles to smoothen out wrinkles.
What does Botox do?
Botox can treat a variety of wrinkles including:
Horizontal forehead wrinkles: the wrinkles you see on your upper forehead when raising your eyebrows.
Frown lines: the vertical lines you see between your eyebrows when frowning.
Crow's feet: the wrinkles you see around your eyes when you smile or squint.
Bunny lines: the diagonal lines you see on your upper nose when scrunching your nose.
Some people have a horizontal wrinkle around their nose seen when they smile. Botox can treat this wrinkle.
Botox can also treat other things:
Some people have a muscle under their nose that pulls the tip of their nose down when they smile. Botox can relax this muscle to prevent the tip of the nose from going down when you smile.
Botox can help decrease migraine headaches.
Botox can slim your lower face or help with pain from TMJ for those who clench or grind their teeth.
The Botox lip flip can help for people who's lips get thin when they smile.
Botox can treat a dimpled chin.
Botox can raise corners of the mouth that are down-turned.
Botox can treat vertical neck bands, horizontal necklace lines, and help improve jawline definition.
Botox can treat excess sweating in the underarms, palms of the hands, and soles of the feet.
Botox Testimonial

Botox Testimonial

Botox Testimonial

Botox Testimonial

Botox Testimonial - TMJ Pain

Botox Patient Experience - TMJ Pain
What happens during a Botox treatment?
Before your Botox treatment you face will be washed and we will take pictures of you making various facial expressions to monitor your progress. The areas will be then further cleansed. Dr. Alex uses a painless Botox injection technique to make your Botox treatment comfortable. We blow cold air on your skin to numb the area and a vibrating distractor called the Beauty Bar is placed on your skin to distract you. We will also provide you with a stress ball to hold during your Botox treatment. Dr. Alex uses tiny needles so you barely feel the Botox injection. After your Botox treatment, Dr. Alex will massage the areas. We will clean your skin, apply sunscreen, and provide you with an ice pack.
Botox Demonstration - Upper Face
Botox Demonstration - Lip Flip
Botox Demonstration - Neck Bands
Botox Demonstration - TMJ Pain
Botox Demonstration - Underarm Sweating
When will I see the results of my Botox treatment?
Although many people will notice an improvement within just a few days after a Botox treatment, it can take up to two weeks to see full results after your Botox treatment. So it's important to be patient. Dr. Alex recommends returning to the office two to three weeks after your treatment to take pictures. If you received the recommended dose of Botox and your results aren't perfect, we'll provide complimentary additional units. So you don't have to worry about diluted Botox.
How long will the results of my Botox treatment last?
Most people enjoy the results of their Botox treatment for three to four months. At that time, Dr. recommends a maintenance Botox treatment. Although three to four months is average, some people require maintenance Botox treatments every two months, and for others they can wait up to six months before having a maintenance Botox treatment. In general, the higher the dose of Botox you receive, the longer you'll enjoy your results.
What should I do after a Botox treatment?
After a Botox treatment, avoid heat exposure, alcohol consumption, and strenuous exercise for 24 hours. Heat exposure refers to staying outdoors for prolonged periods in the hot sun. Also avoid hot environments indoors such as a hot bath, sauna or steam room. Additionally, avoid hot or spicy foods or drinks such as soup, hot coffee, and hot tea (iced coffee and iced tea are okay). Strenuous exercise is anything that causes you to sweat or become short of breath. Also stay upright for four hours after your Botox treatment without bending forward or lying flat. All of these things can increase the risk of bruising or other side effects such as blurred vision, droopy eyelids, or an asymmetric smile.
Brilliant Distinctions
At A E Skin we are proud to participate in the Brilliant Distinctions Program. The Brilliant Distinctions Program is a rewards program where you get points for each treatment with Botox, fillers such as Voluma, Vollure, and Volbella, and Kybella. You can use these points towards a discount at your next treatment.
Additional Notes: 
This is a service to be performed at the A E Skin office in Encino, CA. Patients must be in overall good health. Patients cannot be pregnant, breast feeding, or trying to become pregnant. Patients may not have used Accutane within the last 12 months. New patients must complete medical history paperwork and have a consultation (which may be done on the day of treatment). Patients must sign consent form for each treatment. As with all medical treatments provided by A E Skin, treatment itself if performed at the discretion of Dr. Alex Eshaghian.  If you are a not a candidate for the procedure purchased, your purchase will be refunded within 30 days of your consult. All procedures purchased online must have their corresponding consult booked within two months of the date of purchase.